SmithGroup's creative studio is right in the heart of the city's Financial District on the 19th floor of the KPMG building. We enjoy views ranging from the historic Art Deco Central Library to the sleek Wilshire Grand Center tower, the tallest building west of the Mississippi River. The décor takes cues from our Southern California culture, with welcoming elements like a living wall and a modular wall that recalls Southern California's mid-century-modern aesthetic. Exposed ceilings and concrete slabs reject corporate sleekness in favor of raw creativity. With flexible seating and technology-rich workspaces, the office's open floor plan reflects the collaborative way we work, with one another and with our clients. 
What really makes the LA location unique is the diverse makeup of our people. Our planning insight, design excellence and leadership abilities are best demonstrated by the caliber of work we are producing here. For Los Angeles County, we're delivering expansions, renovations, site improvements and new construction for the 212-acre campus of the Rancho Los Amigos National Rehabilitation Center. Other local projects include UC Riverside's Multi-Disciplinary Research Building, Caltech's Chen Neuroscience Research Building, CSU Long Beach's Student Success Center, the Los Angeles headquarters of ARUP Laboratories and the SchoolsFirst Federal Credit Union headquarters.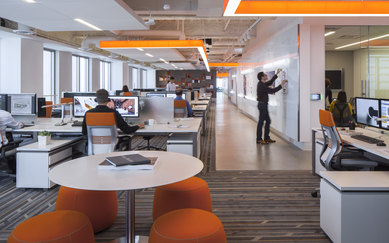 Our Los Angeles studio comprises dedicated architects, engineers, interior designers, planners and support staff who love to create both at work and in their off-hours. In addition to collaborative planning solutions and fast-track design-competitions, the L.A. "Smithereens" find time for volunteer opportunities, community events and other social activities such as golf tournaments, food drives, project tours and even an annual pie contest. With such a creative spirit, it's no surprise that the studio was recently honored as a Best Place to Work by the Los Angeles Business Journal.
How do we describe our culture? We asked around the office; the top responses included "collaborative," "open" and "entrepreneurial," followed closely by "feels like family." These values, encouraged by all levels of leadership across the firm, foster our culture: not a single "right" way of doing things, but rather a common set of beliefs that is indeed collaborative—and really does feel like family.