In a city known for its perfect year-round weather, beaches and delicious Mexican food, working at SmithGroup's San Diego location is about the closest thing to working in paradise. From a central location in the heart of downtown, our 13th-floor offices in the former NBC building feature unbeatable views of the Coronado bridge and the downtown skyline. Its vibrant "beach chic" décor, with a custom-made surfboard table and adjustable-height open workstations, perfectly complements the panoramic views, and also captures the creative and entrepreneurial energy of our local staff.
The office was initially conceived to better assist our healthcare clients in meeting the growing needs of southern San Diego County. This includes projects with both local and national impact, such as the design and construction of a next-generation hospital tower at Sharp Chula Vista Medical Center and the master planning efforts for the University of California—San Diego's Hillcrest Medical Center. The San Diego office is also a hub for world-class laboratory planning resources, as evidenced by the firm's work on the San Diego Crime Lab. It opened in 2018 as the largest public works project in the history of San Diego County and the most sophisticated forensic lab in the world.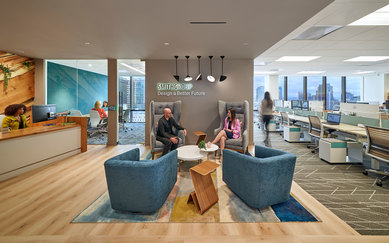 Our San Diego studio comprises dedicated architects, engineers, interior designers, planners and support staff who love to create and collaborate. The office's "agile seating" arrangement reflects our inclusive work style, allowing individuals and teams to select workspaces that best suit their current activities and tasks.
Our fun-loving San Diego group likes to work hard and play harder. When not enmeshed in creating collaborative planning solutions and participating in fast-track design-competitions, the San Diego "Smithereens" find time for volunteer opportunities, community events, and other social activities such as beach cleanups, food drives and project tours. And while the office environment fosters a culture of collaboration, every now and then staff members like to show their competitive side through billiard tournaments and bowling outings.