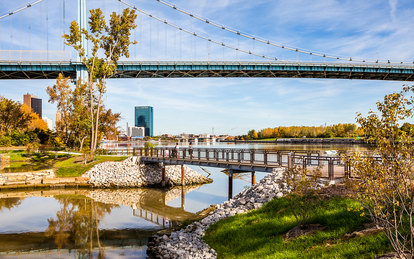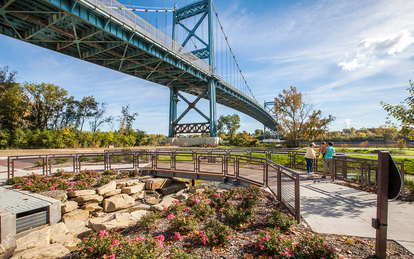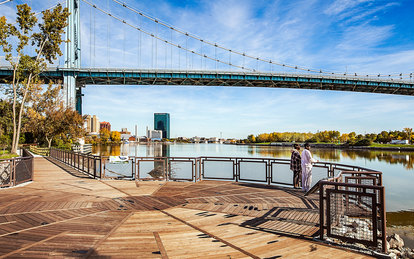 An abandoned railyard is transformed into a landmark riverfront park, restoring habitat and water quality while providing the community with new recreational opportunities, renewed connection to the water, and a redevelopment catalyst.
Client
Metroparks of the Toledo Area
Location
Toledo, Ohio
Markets/Services
Civil Engineering, Landscape Architecture, Parks & Open Spaces, Parks & Promenades, Urban Environments, Urban Parks & Public Spaces, Waterfront
Size
28 acres
Featured Awards
Ohio Parks & Recreation Award of Excellence, Capital Improvements Project ($2.5M+ Category)
ASLA MI Merit Award, Landscape Planning & Analysis
An abandoned railyard along the Maumee River was a vestige of Toledo's 19th-century industrial heyday. Historically known as "The Middlegrounds," the area had become a largely vacant eyesore on the waterfront near downtown Toledo. After the Toledo Metroparks acquired the 28-acre site, it selected SmithGroup to master plan and design a landmark riverfront park.
The resulting Middlegrounds Metropark blends riparian habitat restoration with new recreation opportunities and historic interpretation of Toledo's unique river heritage. The design vastly improves the ecological health of the area. A unique "treatment train" system filters, infiltrates and stores rainwater, including runoff from the adjacent Anthony Wayne Bridge. The reestablishment of riparian wetlands, woodlands and upland prairie will both restore habitat and provide critical connections to the river.
Site amenities include trails, recreational greenspace, picnic grounds, a dog park, interpretative exhibits and a new protected cove launch giving kayakers and paddlers safe access to the Maumee River. This dynamic and attractive waterfront park will generate new momentum for Toledo's riverfront. It provides a seamless connection between the city and its river, drawing visitors and spurring redevelopment in what promises to become a prime downtown destination.