Phoenix Sky Harbor Terminal 3 Modernization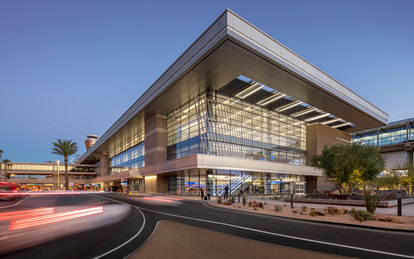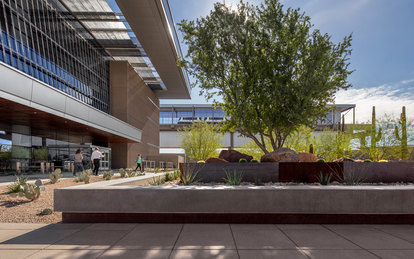 With a major upgrade to a key terminal, Phoenix Sky Harbor creates a world-class travel experience for its passengers with a prominent sense of place.  
Client
City of Phoenix, Arizona
Location
Phoenix, Arizona
Markets/Services
Architecture, Aviation, Energy & Environmental Modeling, Landscape Architecture, LEED, Lighting Design, Sustainable Design
Size
37,500 GSF
Featured Awards
American Association of Airport Executives (AAAE)/Airport Innovation Accelerator, Airport Innovation Award- Most Innovative Airport, 2017
American Institute of Architects (AIA) Western Mountain Region Design Award, 2017
Illuminating Engineering Society (IES) Detroit Award of Merit 2017
Illuminating Engineering Society (IES) National, Award of Excellence 2017
Recognizing its role as one of the largest economic engines for the State of Arizona, Phoenix Sky Harbor International Airport embarked on a modernization project for Terminal 3, originally designed in 1978. The City of Phoenix wished to utilize the original building, upgrading it to an industry-leading facility with a design that embraced the Phoenix region and its people.  
The modernization completely transforms Terminal 3, incorporating spectacular atrium spaces, skylights with natural light, and exceptional views that connect travelers back to the city and native Arizona desert landscapes. The performance-focused upgrade maximizes operational efficiency and responds beautifully to the region's culture, community, progressive architecture and sustainable desert building techniques. Hospitality-style materials and finishes create a welcoming visitor-focused experience. Commissioned artwork and a plaza with native botanical garden underscore the airport's connection to the region.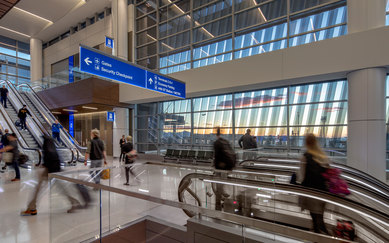 Designed in the brutalist style, the 1978 terminal was an internally oriented, closed concrete structure. By removing large sections of the precast facade and mezzanine, the team was able to retain the building yet transform it into a grand space filled with daylight and open to sweeping views of the surrounding city, desert landscapes and mountain peaks. It creates an undeniable sense of place that greets visitors from around the world and welcomes locals back home.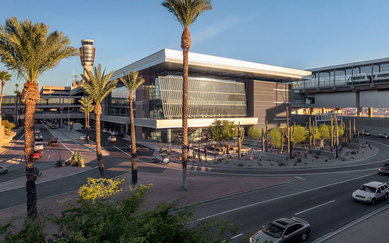 With the design's emphasis on natural light, artificial lighting is minimized and controlled with daylight sensors. The design also moved concessions post-security, increased security capacity, optimized passenger flows, increased gate capacity, improved baggage handling, optimized curbside operations, and post-9/11 security upgrades including removing parking from the roof. 
Thanks to excellent communication among partners, precise demolition and phased construction, the terminal remained fully operational throughout the project. With its unrivaled views, comfort and efficiency, Terminal 3 sets the standard for the aviation passenger experience and positions Sky Harbor for continued growth and success.