McCarthy Building Companies Completes SmithGroup/Corgan-Designed Final Concourse for Terminal 4 at Phoenix Sky Harbor International Airport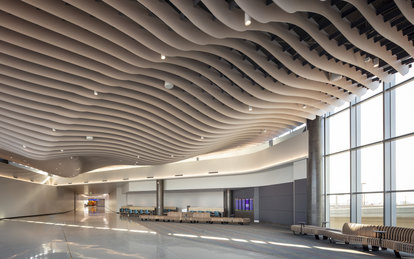 McCarthy Building Companies Inc. recently completed construction of the eighth and final concourse in Terminal 4 at Phoenix Sky Harbor International Airport, which includes the addition of eight new gates serving Southwest Airlines passengers.
Phoenix Sky Harbor International Airport's Terminal 4 is the busiest terminal at the airport and handles more than 80% of passenger traffic annually. The airport served nearly 39 million passengers in 2021, and during peak periods, existing gates at Terminal 4 often reached full capacity. The addition of eight new gates brings the Terminal 4 total to 92 gates. The new concourse, designed by SmithGroup in partnership with Corgan, is located at the southwest corner of the terminal adjacent to the low D concourse.
"As America's Friendliest Airport® our goal is to provide an exceptional customer experience for our travelers," said Director of Aviation Services Chad Makovsky. "As Phoenix Sky Harbor continues to grow, it's important for us to provide facilities and services that align with our customers' needs. We're excited that this new concourse will accomplish exactly that, providing a variety of customer amenities from charging stations at every seat to technologies designed to improve accessibility and comfort for all who travel through our airport."
The total project added or renovated approximately 275,000 square feet of space, with the addition of 161,500 square feet representing the eighth and final concourse and connector bridge at Terminal 4. Included are approximately 137,000 square feet of concourse configured with apron and passenger levels; within the concourse space, approximately 25,000 square feet of shell spaces for retail, and food and beverage concessions; a new 24,000 square foot transfer bridge now connects the South concourses to the North concourses on the west side to Terminal 4.
The project also included terminal processor improvements, expansion of the existing security checkpoint D, additional ticket counters, and a new baggage handling systems to support the new gates and associated travelers. Approximately 113,000 square feet of space was also remodeled with the project.
"It was essential that all ongoing airport operations at the terminal continued with minimal disruption during the three-year construction of this project. Fortunately, our McCarthy teams are well versed in managing construction projects at active airports airport, having successfully completed the award-winning PHX Sky Train® expansion to Terminal 3 and Terrazzo flooring upgrades throughout Terminal 4," said Brandon Moon, vice president, project executive, for McCarthy's Southwest Region. "This final concourse at Terminal 4 has been designed with larger holdrooms which are surrounded by electrochromic glazing to create a comfortable environment for passengers. Every portion of the new concourse was designed and built to provide an exceptional passenger experience for Sky Harbor passengers." 
The project is pursuing LEED Silver certification through the U.S. Green Building Council. Approximately 14,000 square feet of electrochromic glazing, a glazing system connected to low voltage wiring and control systems, tints the windows based on the exterior temperature and angle of the sun. The technology makes for a more comfortable passenger and employee experience at the concourse, and it is a first for Sky Harbor. Project planners implemented other environmental savings by reusing materials from old building foundations and slabs from the 1960s. The concrete was crushed and used onsite for backfill preventing the need for additional material import and the reinforcing steel was all recycled.  
The project design reinforces connections to place through moments of engagement with the landscape, sky, city and the PHX Sky Train®.     
"We placed a high priority on creating vistas to the distant mountains and bringing in abundant daylight, choreographed to provide patterns of light and shadow as the sun moved throughout the day," said John Tran, vice president and design principal at SmithGroup. "The new concourse is grounded in its place and context, as part of the evolving Sky Harbor campus as well as its home in Phoenix and the Sonoran Desert."
The project also maintains a distinctive tradition for the airport.  
"We continued the theme of art installations to sustain Sky Harbor's reputation as a major center for public art," Tran said.
"Leading the design for Sky Harbor's interiors, Corgan's aviation expertise seamlessly integrated added efficiencies for airside operations without sacrificing an elevated passenger experience—honoring a sense of place with human-centric amenities and a destination that celebrated the local materiality, art, culture and geology of the Arizona landscape," says Thomas Lusk, project design manager at Corgan.
Facility construction began in May 2019 and major construction milestones were achieved during the pandemic when passenger levels dipped. The first flights out of the new concourse departed yesterday.
In addition to expanding the airport's busiest terminal while it was in operation, the project's noteworthy factors include:
1.5 miles of baggage handling system conveyor belts installed along with 1,400 linear feet of jet fuel pipeline;
Construction of four tunnels and two bridges; by building tunnel structures for baggage transfers, the team was able to remove the need for a costly additional basement structure;
49.6 million lbs. of concrete; 1.9 million lbs. of rebar; 92,000 square feet of exterior metal panel and 56,000 square feet of terrazzo flooring
Major subcontractors on the project included G&S Airport Conveyors, DP Electric, Karber Corp., GrayWolf, Kovach, Rhino and E&K. Both Karber Corp. and Rhino are designated City of Phoenix Small Business Enterprises.
For more information about SmithGroup, please visit our Company Fact Sheet.
About McCarthy Building Companies
McCarthy Building Companies, Inc. is the oldest privately held national construction company in the country – with more than 150 years spent collaborating with partners to solve complex building challenges on behalf of its clients. With an unrelenting focus on safety and a comprehensive quality program that spans all phases of every project, McCarthy utilizes industry-leading design phase and construction techniques combined with value-add technology to maximize outcomes. Repeatedly honored as a Best Place to Work and Healthiest Employer, McCarthy is ranked the 8th largest domestic builder (Engineering News-Record, May 2021). With approximately 3,700 salaried employees and craft professionals, the firm has offices in St. Louis, Atlanta; Collinsville, Ill.; Kansas City, Kan.; Omaha, Neb.; Phoenix; Las Vegas; Denver; Dallas, Houston; and San Diego, Newport Beach, Los Angeles; San Francisco, San Jose and Sacramento, Calif. McCarthy is 100 percent employee-owned. More information about the company is available online at www.mccarthy.com or by following the company on Facebook, Twitter, LinkedIn and Instagram. 
About Corgan
Consistently ranked one of the top architectural firms, Corgan is an international architecture and design firm with more than 70 years of aviation experience and 135 aviation-dedicated staff who have worked on over 200 airports around the world. Our experience with airport authorities, airlines and aviation facilities gives Corgan a unique vantage point to create spaces that are fresh, iconic, and distinct to the community it serves. Our work is based on evidence, experiential research and hard data to reveal important insights into the future of transportation and the passenger experience. Sharing deep expertise across our aviation, commercial, interiors, healthcare, education and data center sectors, we minimize risk, add flexibility and maximize longevity to elevate the design process and create spaces that inspire and delight.