Phoenix Sky Harbor - PHX Sky Train® Terminals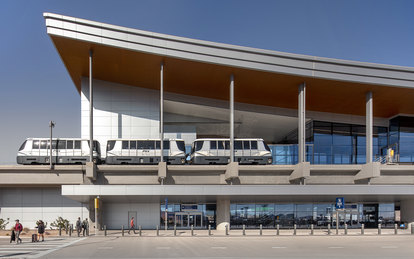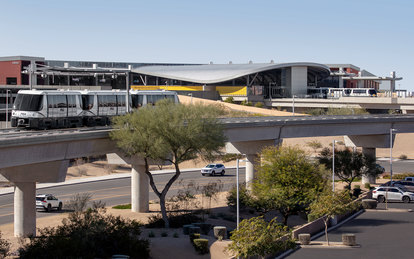 Part of a multi-year improvement plan at Phoenix Sky Harbor International Airport, an expanded PHX Sky Train® and new stations provide a sustainable electric train service between airport terminals and transportation hubs.  
Client
City of Phoenix, Arizona
Location
Phoenix, Arizona
Markets/Services
Active Transportation & Mobility, Architecture, Aviation, Interiors, LEED, Sustainable Design
Serving more than 120,000 passengers a day, Phoenix Sky Harbor has embarked on several infrastructure projects to keep pace with the Valley's growth, ensuring it can continue to meet future demand with safe, efficient services. Working with the City of Phoenix, lead engineering firm Gannett Fleming and general contractor Hensel Phelps, SmithGroup was tasked with the architecture and lighting design of two new stations that would expand the light rail network through the airport property.  
Phase 2 of the PHX Sky Train® project completes the line to all airport terminals and now connects the airport with new stations at 24th Street (adjacent to the airport office building also designed by SmithGroup) and the PHX Rental Car Center. With distinctive curved rooflines inspired by aircraft flight patterns, the elevated stations are elegant and easily identifiable wayfinding points for travelers.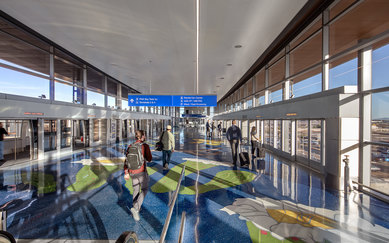 The team picked up some themes from the existing 44th Street PHX Sky Train® Station to establish a cohesive design, particularly its curved form and metal skin. In the new stations, the curves are expressed as concave or convex overarching roofs, highlighted with uplighting. Easily visible from nearby Interstate 10, the roofs orient arriving travelers and provide essential shade. Interior materials and colors are unified with the Sky Harbor palette of glass, metal and concrete; Bright and bold designs in the terrazzo floors, along with other commissioned artwork, bring color and a unique sense of place to each station.  
The station designs are optimized for comfort and convenience, with indoor and outdoor seating, shade screens, ample air circulation, and effective lighting to safely serve passengers 24 hours a day.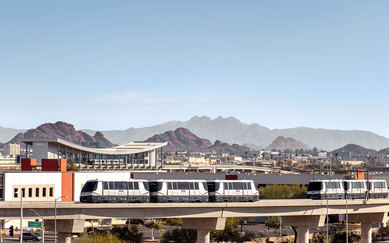 As a result of the PHX Sky Train® expansion, a quiet electric train now whisks passengers between the airport terminals, ground transportation services and a city transit hub. It is a monumental shift in operational efficiency and carbon reduction, eliminating the steady stream of rental car buses, hotel shuttles and car hires that once circled the airport grounds. The project earned the Envision Gold Award in 2020, recognizing achievement in high-performance infrastructure. What's more, it establishes a foundation for continued sustainable growth and improvements at Phoenix Sky Harbor.