Here in the center of the U.S., Chicago pulses with an energy all its own. Distinct from our nation's other two coasts, it forges a special place in our country's geography and our hearts alike. The Windy City blends Midwestern charm with a drive to keep growing, creating and transcending. SmithGroup's Chicago office, too, is a perfect blend of warm charm delivering real results.
Our mission is to create a legacy of inspiring places that enhance the environment and enrich the human experience. That, in a nutshell, is the core purpose of SmithGroup. We work together to create well-thought, well-crafted places that artfully balance beauty with function.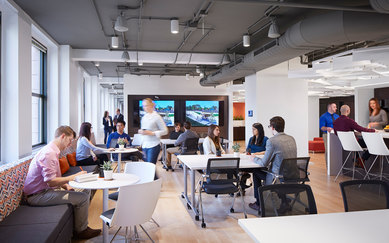 With an office in the heart of Chicago's Loop, we love taking our lunch breaks at the Riverwalk—gazing up at the incredible architecture rising up along the Chicago River—and window shopping along Michigan Avenue's famed Magnificent Mile. After work you can catch us having food and drinks along the beautiful Chicago riverfront.
SmithGroup selected one of Chicago's iconic classic-revival buildings for its home: the 1926 Jewelers Building, which made headlines in the '20s for accommodating cars on 23 floors. With its open studio and free-address seating, we've created a vibrant work environment that supports our design culture: dynamic, transparent and flexible. Staff choose from standing desks, bench-style seating, conference and huddle rooms, and teaming areas with an array of reconfigurable furniture; enclaves, phone rooms, and a handful of traditional desks are available for tasks requiring more privacy or quiet time. A spacious lobby and café provide additional options for breakouts or socializing over lunch. Our office design supports a unique company culture that has been recognized for five consecutive years in the Chicago Tribune's Top Workplaces.