SmithGroup's Madison location is an integrated design collaborative that channels the diverse skills and creative tension between architects, engineers, landscape architects, planners, and interior designers to Design a Better Future. Our team specializes in waterfront, urban design, cultural, workplace, and higher education and campus projects. These are perfectly suited to our surroundings in Wisconsin's beautiful capital city, which squeezes onto an isthmus between two large glittering lakes and is also home to the state's flagship University of Wisconsin and leading cultural attractions.
You can see our team's work right here in Madison, across the state, or halfway around the world. Some of our most significant recent projects include the University of Wisconsin-Madison Alumni Park (a beautiful outdoor museum and public space on the water's edge) and the Makronisos Marina in Ayia Napa, Cyprus. We are currently working on the new Wisconsin History Center museum on the Capitol Square and UW-Madison's Engineering Building Replacement, in addition to numerous projects on land and water across the Midwest.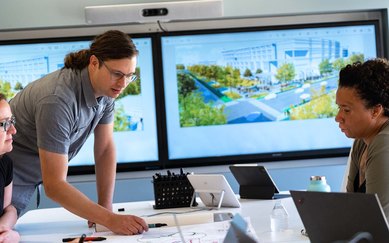 With a prime location on the Capitol Square in the heart downtown, our fifth-floor office home boasts breathtaking views of the State Capitol, as well as both Lake Mendota and Lake Monona. All sorts of terrific restaurants, bars, shopping districts, and entertainment centers are right outside our door, and during the summer you will find various concerts and shows on the capitol lawn. From our office, it's just a short walk down the colorful State Street pedestrian mall to the University of Wisconsin campus, which stretches out along the shores of Lake Mendota. With the city's great transit system and network of bike trails, our staff arrive at the office via bus, bike, car, and foot.
The agile office environment is equipped with state-of-the-art technology and a variety of cozy workspaces. SmithGroup's hybrid-friendly work culture provides our team with ultimate flexibility and a comfortable work-life balance. You may find employees at their desks, catching up with co-workers in the sunny café, tucked away in a private enclave on a video call, or collaborating with others in one of the many team spaces. You might even encounter a visiting lunchtime speaker, or colleagues ending the work week engaged in a friendly rivalry of indoor bags or a musical talent show. We can't wait for you to join us!