SmithGroup Named a "Design Company of the Year" by Fast Company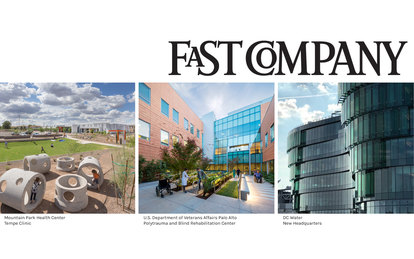 SmithGroup has been recognized as a Design Company of the Year and three SmithGroup-designed projects have been named winners in Fast Company's 2018 Innovation by Design Awards, which recognizes people, teams and companies solving problems through design. It is is the only competition that honors creative work at the intersection of design, business, and innovation, aligning closely with SmithGroup's mission to design a better future for our clients, our communities, and ourselves.
Mountain Park Health Center Tempe Clinic in Tempe, Arizona is honored as a Finalist in the Spaces, Places and Cities category. In a continued partnership with Mountain Park Health Center (MPHC), SmithGroup's health specialists have developed a clinical module that supports MPHC's model of integrated care where patients are seen by a range of healthcare providers in one visit in one setting. For MPHC's Tempe Clinic, SmithGroup transformed a former boat dealership into a functioning clinic that is efficient and effective for their staff in the care of the area's diverse population of patients. Particularly notable is a unique program of publicly-accessible, wellness-focused amenities. The Tempe clinic demonstrates that an innovative organization with an appreciation for creative design can do even more than provide quality healthcare—it can contribute to a healthy community that enhances the lives of its residents.
U.S. Department of Veterans Affairs Polytrauma and Blind Rehabilitation Center in Palo Alto, California is recognized with an Honorable Mention in the Spaces, Places and Cities category. VA's Palo Alto facility is the only center in the country designed to provide cross-disciplinary long-term rehabilitation to veterans of polytraumas (multiple trauma injuries) and vision-impairment. SmithGroup improved the patient experience by designing the facility for all five senses in a human-centered approach that re-envisions accessibility, universal-design and user experience. The resulting center is a model for reinforcing equity by design in the built environment—minimizing physical and sensory barriers to maximize the potential for success.
DC Water New Headquarters Building in Washington, DC is recognized with an Honorable Mention in the Spaces, Places and Cities category. The new headquarters building is a model of next-generation architecture in process, design, its impact on the urban form, and its response to the environment. SmithGroup fully integrated all its design disciplines as well as construction expertise during design development to optimize the building's form and skin and incorporate a wastewater energy exchange mechanical system that is the first of its kind in the United States. The headquarters will use 48% less energy than a typical office building due to its form and systems and is expected to achieve LEED Platinum certification.
The recognition of these three projects led Fast Company to name SmithGroup as one of the Design Companies of the Year, putting it in a an elite group with companies like Google, Microsoft, Airbnb and Target.
The Innovation by Design awards can be found in the October 2018 print issue of Fast Company, on stands September 18th. In 2018, they have honored an influential and diverse group of 398 innovators spanning industries from fashion to graphic design and data visualization, to user experience and architecture. To view a complete list of honorees, visit: https://www.fastcompany.com/innovation-by-design/2018
For more information about SmithGroup, please visit our Company Fact Sheet.