From yesterday's dusted fingerprints to today's rapid DNA and digital databases and single plate x-rays to advanced forensic imaging there are major disruptors in the field of forensic science. Developing a successful forensics facility demands flexibility at many levels—a facility that can adapt not only to advancements in technology, but also to unforeseen yet inevitable changes in procedures, management and funding. The successful facility of tomorrow must effectively balance open laboratory environments, more humane and inspiring workplaces, functional zoning, consolidated spaces and sustainable energy conservation.
We have partnered with numerous public agencies and institutions on more than 100 forensics facilities. Projects include centralized crime labs that serve multiple public safety agencies and alleviate critical backlogs in evidence processing; the Hamilton County Coroner's Office and Crime Lab in Blue Ash, Ohio, which propels the County to the forefront of forensic medicine; and the Defense POW/MIA Accounting Agency's Forensic Identification Laboratory, the world's largest forensic anthropology lab with a mission to aid in the investigation, recovery and accounting of Americans lost in service to their country.
PROJECTS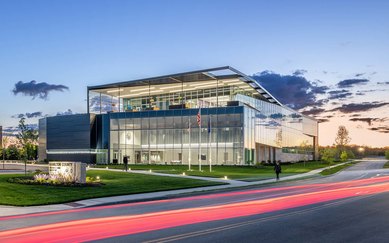 MEET OUR TEAM
SmithGroup's forensics center of excellence—comprising architects, engineers, lab planners and interior designers—has the planning and design prowess to meet our client's challenges. To each new project we bring a thorough and contemporary understanding of the issues that influence forensic practices. We augment that applied knowledge with in-house research, analyzing the trends and disruptors of forensic science and the implications they have for planning and design. Our goal is to become true partners with our clients, seeking to advance the field of forensics by creating safe, pleasing and highly productive environments that enable efficient and quality investigation and analysis.
THOUGHT LEADERSHIP