Electrification of Buildings, New and Old, Furthers Environmental Responsibility and Equity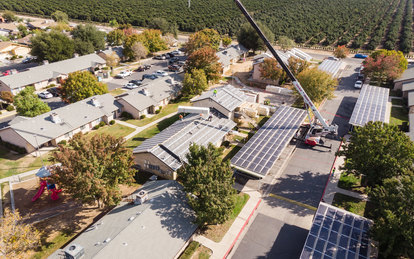 New buildings are sexy. They allow architects to explore aesthetic ideas and enable sustainability experts to test carbon-free renewable energy. But there's one big problem: From-the-ground-up buildings are carbon intensive—the extraction of materials, the processing of those materials into building components, construction vehicle emissions and so on. It's almost a cliché in our industry, but nonetheless: The greenest building is the one that is already built. 
But whether new or old, electrifying our national building stock, especially housing, is an idea whose time has come. Not only does it bring us closer to carbon neutrality, it can benefit communities of color that are most impacted by "dirty" energy because of placement of energy-generating facilities, like coal plants, near them. These citizens, long the victims of environmental racism, deserve better. 
EFFICIENCY, EFFICIENCY, EFFICIENCY
Technology is nice, but efficiency is better. It doesn't make sense to electrify a poorly performing existing house or multi-family building without first improving its efficiency. Common energy efficiency improvements include increased insulation in the roof, walls, and crawl space, replacement window systems with low emissivity, insulated glass units, air sealing and other interventions. 
But retrofitting older housing is messy. It can be very invasive and often requires re-building or replacing existing ductwork, addressing issues like mold and asbestos remediation, structural issues and many other complicated and expensive elements that property owners are often reticent to take on. It also requires the removal of existing gas and fuel oil infrastructure. Most developers feel it is easier and more profitable simply to build in greenfield suburbs and exurbia. But this too is a problem. Encroaching on pristine land, farther and farther from city centers, is at cross purposes with the fight for land conservation and maintenance of wildlife habitats. Continued sprawl also creates conditions for catastrophic flooding as development prevents stormwater from naturally flowing to area bodies of water or being absorbed into the ground. Finally, the increased commute times and resulting carbon emissions are other factors to consider. 
AN ANSWER TO THE SKEPTICS 
Many people dismiss the electrification of buildings because they point out that the electricity has to be generated somewhere—possibly even via a "dirty" method. But reality refutes this argument. The state of California has already mandated that the electrical grid be carbon neutral by 2045, and Governor Gavin Newsom has asked state agencies to accelerate that target date by 10 years. As our grids convert to technologies like wind and solar, we're reducing the costs of renewables. Here again, the more we procure renewable energy, the cheaper it will become. In addition, the 2022 CA Energy Code will require nearly all new buildings to include solar panels and battery storage. And there is the Biden Administration's commitment to carbon reduction—the $1.2 trillion spending package passed by Congress and signed into law by the president in November 2021, includes billions of dollars in new funding for electric grid upgrades and building retrofits. The more ambitious $1.75 trillion "Build Back Better" bill, still in negotiation, would add even more of both, as well as wind and solar power to wean the nation off fossil fuels.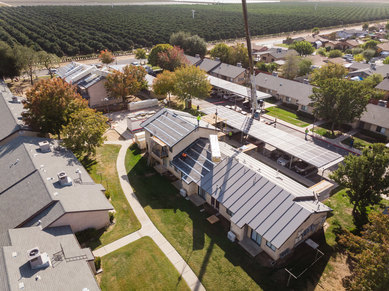 THE BUILD PROGRAM 
As important as existing building retrofitting is, especially for traditionally marginalized groups, initiatives for electrification of new buildings must be part of the plan. Both the Association for Energy Affordability (AEA) West and SmithGroup are involved with the Building Initiative for Low-Emissions Development (BUILD), part of a $200 million State of California program to reduce new building emissions. BUILD will be primarily focused on housing for families experiencing economic challenges, with a minimum of 75 percent of these funds set aside for low-income projects and active technical assistance provided to housing developers. The California Energy Commission will administer BUILD, which leverages the commission's expertise in overseeing the energy code for new buildings and administering deeply impactful energy programs. 
AEA and SmithGroup are part of a team that was recently selected as the Technical Assistance Providers for the BUILD Program. AEA has positioned itself as a trusted advisor to affordable housing developers across the state and to serve as the technical lead in collaboration with SmithGroup and other organizations. The team's cover letter reads: "With California's ambitious 2030 targets and significant investment in decarbonization efforts, housing developers and design teams understand the importance of shifting to all-electric design. Yet without additional intervention, electrification may be out of reach for the stakeholders who need it most—historically hard-to-reach affordable multifamily housing developers and their design/construction teams." 
ELECTRICAL ENERGY FOR THE MANY, NOT JUST THE FEW
All-electric homes for everyone, with an emphasis on low-income people and communities of color, is an urgent imperative. It's easy to focus on depressing stories about climate change and the world's sometimes lackadaisical response to it. But we remain optimistic. We in California are going gangbusters in advancing low- or no-carbon buildings across all socioeconomic groups. We are confident that this will spread to the rest of the country in the near future. If you want to see how close that future may be, take a look at the I-35 corridor in the heart of Iowa—it's lined with wind farms.  
We passionately pursue our work because it is the right thing to do. All-electric housing and environmental justice need to be prominent among our national priorities. We as a country have the tools and skills to reverse current warming trends and move our society toward a restorative, and more equitable, environmental future. 
Andrew Brooks is Senior Director of Association for Energy Affordability (AEA) West. Stet Sanborn is the Engineering Discipline Leader in SmithGroup's San Francisco office.