Amenities Abound: Superior Comforts for the Post-Pandemic Office
In years leading up to the pandemic, office amenities and uniquely-designed spaces—those that conveyed authenticity and personality—had gained prominence as integral components within an organization's competitive and well-defined workplace strategy. Equally important, these differentiators helped enhance recruiting and retention efforts while reinforcing a company's values, culture and brand.
As large segments of employees across industries express a desire to continue to work from home following the COVID-19 pandemic, employers are exploring a new generation of amenities and differentiators that will entice staff to return to the office while keeping them safe, happy, healthy and engaged.
SmithGroup workplace experts are seeing a rise in new amenities and employee offerings, including the following:
State-of-the-art fitness offerings
High-quality food & dining options
Spaces to connect over beverages, i.e. coffee bars, wine bars & more
Impactful gathering spaces rich in meaningful design touches
Out-of-the-ordinary anything!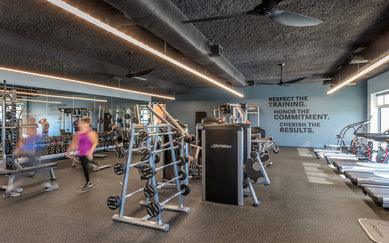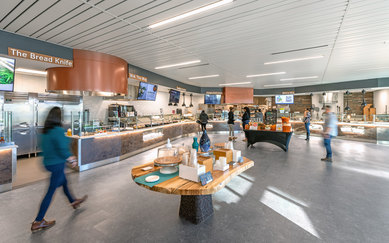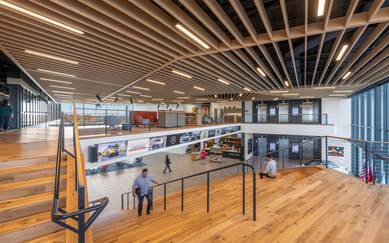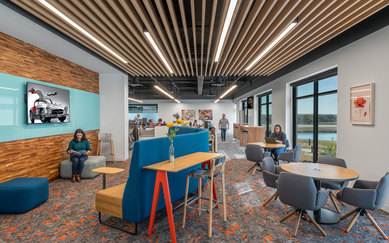 Mercedes-Benz Financial Services Headquarters
Located in a suburb of Fort Worth, Texas, interior design solutions for this 200,000-sf suburban office building embody the ethos of the legendary Mercedes-Benz brand along with its long-standing culture of openness and collaboration. Rich in amenities, employees have access to the following:
- On-site coffee bar with barista
- Full-service kitchen
- Terrace with lake views
- Fitness center with locker rooms
- Exterior patios & balconies
Click here to learn more.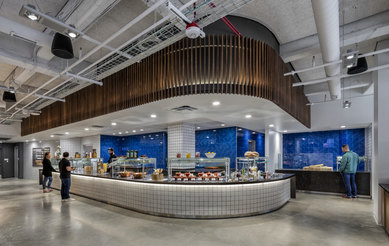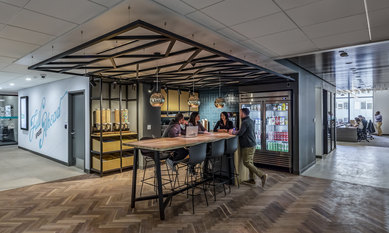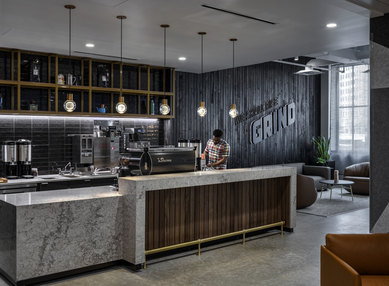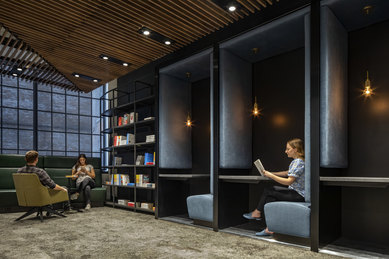 As Detroit continues to expand its position as a dominant player within the fin-tech marketplace, LinkedIn chose to restore and renovate 75,000-sf of space in the city's iconic Sanders Chocolate Co. and Grinnell Piano Co. buildings. The restoration and renovation effort gave rise to an award-winning office fit for a growing global technology giant with a passion for supporting local enterprise wherever the opportunity may arise. Employees that travel to LinkedIn's office within Detroit's urban core enjoy a beautiful, authentically local office boasting a wide range of amenities including the following:
- On-site coffee bar with barista
- Café and eatery with an array of food & beverage offerings
- Mindfulness room
- Lounge-like gathering spaces
- Floor-to-ceiling murals & art installations created by local artisans
Click here to learn more.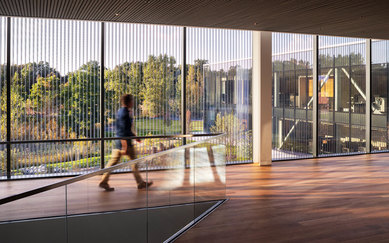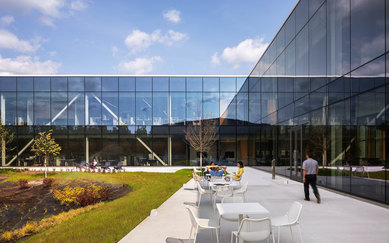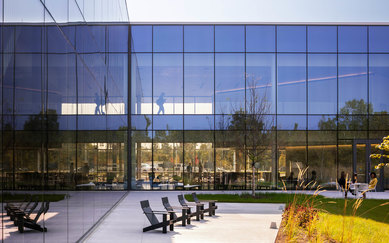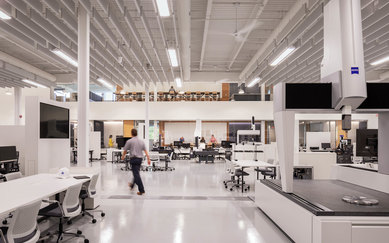 ZEISS Michigan Quality Excellence Center
In the world of manufacturing, modern, smart factory environments are becoming increasingly critical. With the opening of its Quality Excellence Center in Wixom, Michigan, ZEISS Industrial Quality Solutions has successfully demonstrated that a modern manufacturing and testing environment housed within a state-of-the-art office ensures production of the highest quality deliverables for customers. So, it's no surprise that this new facility has become a premiere recruiting tool for ZEISS within its highly competitive marketplace.
Like ZEISS products, the design of this facility is taut and precise. Its sleek silhouette is reflective of the company's strong, collaborative workforce and brand identity, and provides the exacting conditions needed to test and operate ZEISS equipment. Organizational leadership and employees echo the positive impact that the following have had on health and wellbeing:
- Access to natural daylight
- Outdoor courtyard & terrace
- Pristine landscaped campus & adjacent preserved wetlands
- Jaw-dropping café & gathering areas
- Expansive windows with uninterrupted sight lines to nature
Click here to learn more.
If this conversation resonates with you, please contact amy.warden [at] smithgroup.com (Amy Warden)title="E-mail amy.warden [at] smithgroup.com", Workplace Corporate Practice Manager, to further discuss how SmithGroup's office design experts can help you assess superior comforts, services & personalized design solutions for the post-pandemic workplace.