CoreNet Global Hackathon: Workplace Well-Being at Home & In the Office Following COVID-19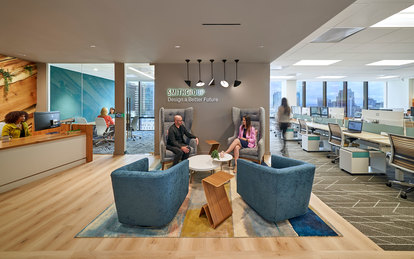 Confronted with the realization that COVID-19 has claimed more than 20 million lives worldwide, organizations understand that personal safety, health and well-being have become non-negotiable priorities of the utmost importance. So, when it comes to returning to work, companies must put in place carefully considered protocols that go above and beyond to promote mindfulness and protect employees' well-being. Even with these measures, we have yet to fully understand how the global COVID-19 health crisis will impact peoples' willingness to gather in or share common spaces moving forward. Will people become reluctant to use coworking spaces or shared office settings? In workplace environments, what will become of open seating or benching solutions – particularly those that do not include partitions? And of great consideration, what steps should companies take to prepare for and protect employees and their workspaces in the event of a COVID-19 recurrence or future pandemics?
SmithGroup workplace strategist Alexis Kim and interior designer Rob Moylan partnered with thought leaders across the country to explore these issues, as well as the physiological, psychological, social and cultural benefits and challenges of returning employees to physical office spaces during and after the COVID-19 pandemic. The team addressed these concerns while also addressing the impact that a variety of workstyles and modalities might have on collaboration, productivity, creativity, innovation and the environment. These and other factors were accounted for as the team developed recommendations for ensuring employees' health, safety and well-being in the workplace – presently and well into the future. What did they learn?
Social & Culture
Creating an environment that ensures employees' well-being requires carefully customized solutions that support an organization's mission, vision, values and culture. Yet even in uncertain times, the importance of retaining the social and cultural components that draw employees to an organization can't be overlooked. To maintain an engaged workforce, leaders must be flexible, open minded and pay close attention to:
Empathy & Feelings – This is a complicated time for employees for many reasons. Providing staff with the opportunity to voice concerns, listening to them and acknowledging their feelings can go a long way to helping employees remain engaged with and connected to the company during these unprecedented times.
Flexibility – The stresses of balancing work responsibilities, childcare, eldercare and personal concerns during a pandemic can disrupt employees' traditionally predictable behaviors and productivity. Affording teammates the latitude to flex schedules during trying times can help to mitigate short-term emotional stressors associated with COVID-related circumstances.
Connectivity & Culture – Though physically separated, it is still possible—and essential—to keep teams connected. Calls, emails, meetings, group learning sessions, team building activities, happy hours or other virtual events can help continue to support a company's culture and promote social connectivity.
Provide Choices & Respect Boundaries – Employees are juggling a lot these days. Consider temporarily lifting normal working hours and adjust policies to allow people the flexibility to balance work and family obligations. Respect these work arrangements while they are in place.
Psychological & Physiological
Employees appreciate knowing that their employers care about them holistically. Much consideration was given to discussing how businesses can address mental well-being, as well as physical safety.
Communication – With so much in flux, make sure employees are in-the-know on important decisions. Topics that require addressing might include office reopening plans and guidelines, updates to workplace policies, cleaning or health screening protocols, and more. Communicate often to keep staff informed and alleviate fears.
Check-in – Schedule check-in calls or video conferences to see how employees are feeling and coping with new workstyles. Create opportunities for them to share safely and openly anything that might be impacting their physical or emotional well-being.
Promote Physical & Mental Wellness – Whether employees are working at home or have returned to the office, also offer opportunities for them to take breaks to ensure physical and mental fitness. Suggest that employees alternate between siting and standing, encourage use of "night mode" on screens, or host walking meetings to help create physical and mental relief.
Professional Care – Work with HR representatives to ensure that staff have access to a range of counseling resources if they do not feel comfortable talking with colleagues or supervisors about issues of concern.
Creativity & Innovation
Creativity and innovation are paramount for businesses to survive these trying times. Companies and individuals must:
Eliminate obstacles to innovation
Utilize strengths and differentiators to remain relevant
Find opportunities to reinvent aspects of your business to better serve clients
More detailed findings from this group's discussions can be found in the following report and supporting presentation.