DPR Construction Sacramento Office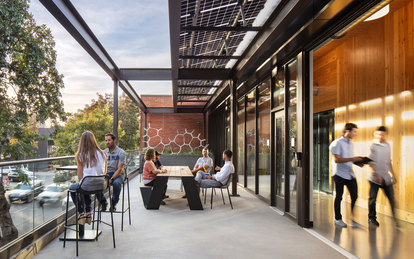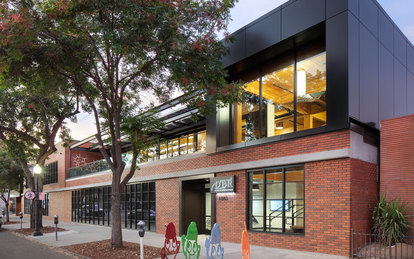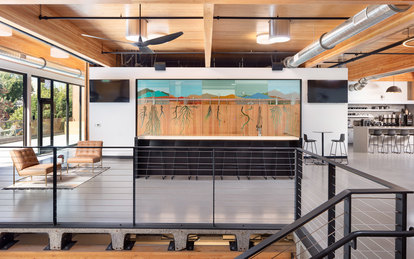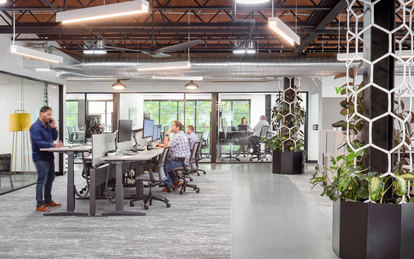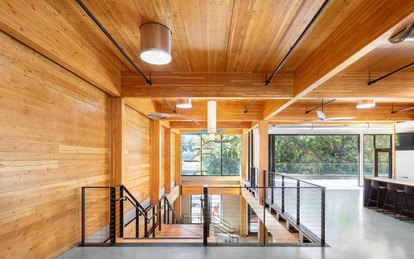 With Net Zero Energy (NZE) becoming a requirement for all commercial buildings in California by 2030, DPR partnered with SmithGroup to meet and exceed this mandate in designing its new Sacramento office. This new space exceeds regulatory requirements, targeting Net Positive Energy, while creating a resilient work environment that fosters collaboration, innovation and connection to the surrounding community.
Location
Sacramento, California
Markets/Services
Commercial Office Buildings, Corporate Interiors, Sustainable Design, Workplace
Size
28,833 SF
Featured Awards
Committee on the Environment (COTE) Top Ten Award, American Institute of Architects (AIA), 2023
Fast Company Innovation by Design Award, Workplace, Finalist, 2020 
"The most sustainable building is the one that already exists," goes an important green dictum. This is even truer with adaptive reuse projects that minimize the use of new building materials, divert excessive debris from piling up in landfills, and preserve an established urban fabric. When it came time to choose a new office for its Sacramento location, DPR Construction partnered with SmithGroup to reimagine an existing structure in Midtown.
SmithGroup and DPR have a long history of partnering to deliver successful NZE projects. When this opportunity presented itself, California's stringent NZE requirements energized the team to push the boundaries with the design of this space. In addition to purchasing and renovating an existing structure – which previously served as a vehicle testing center and office—the team added a 5,692 SF addition of mass timber construction. In place of concrete or steel, load-bearing and structural elements were constructed from cross-laminated timber (CLT).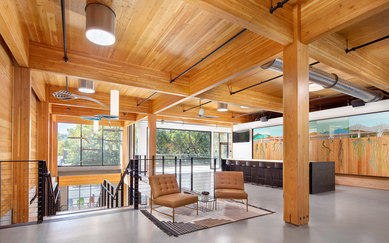 The facade of the building addition is open, transparent and urbane, melding with a resurgent Midtown Sacramento. Its most striking feature is a long central terrace with a solar canopy, accessible to all DPR employees. A variety of mature trees shield and shade the terrace emphasizing the design concept of the City of Trees. A new communicating stair was cut into the existing structure to create a new entry along vibrant J Street as a secondary entrance at the corner of J and 18th Streets which further activates the block. Operable windows and large sliding glass walls connect allowing the building to take advantage of Sacramento's Delta Breeze. Solar Panels on the roof, over parking, and terrace canopy along with Solatubes on the new and existing roof and re-using the basement as a thermal labyrinth integrate renewable energy throughout the building. The office also features a battery back-up for a portion of the building's electrical loads – ensuring its ability to withstand a prolonged power outage.
The interior configuration creates another advantage of wood construction, by reducing the need for interior finish materials like drywall. Occupants receive a better sense of the inner structural workings of the building, in addition to the warm and inviting properties of wood. The interior also features flexible spaces needed by a construction company – large meeting rooms, lots of huddle spaces and open collaboration areas. A seed wall creates a low water and energy solution rivaling a vertical garden. DPR and SmithGroup also selected seven local artists to design custom art installations in various mediums in the space.
A thread of excellence in adaptive reuse weaves its way through the entire project. This fruitful collaboration between SmithGroup and DPR produces a building that fulfills the "most sustainable building" dictum while exceeding California's Net Zero Energy goals.