AR is Indispensable to Design and Construction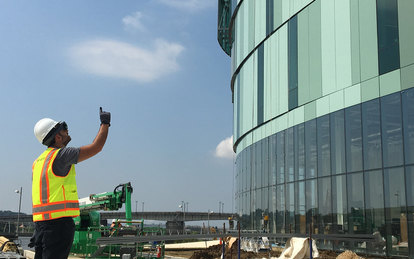 Since the first consumer-grade virtual reality (VR) headsets were released to the general public in spring 2016, VR has transitioned from an industry novelty to a nearly ubiquitous tool in architectural visualization. For SmithGroup, it took even less time for VR to advance from its infancy to indispensability.
Today a tour of any of our offices will likely reveal a permanent VR workspace, supplemented with the use of mobile VR kits to service out-of-office client meetings and presentations. In other words, wherever SmithGroup goes, so does VR.
Beyond its clear advantages, this fast adoption of technology may be a harbinger of changes yet to come, including a similarly rapid and impactful transition under way in the form of a related technology: augmented reality (AR).
Whereas VR can transport the user to an entirely new environment, AR equips its user with the ability to overlay information on top of their real-world surroundings. This effect is typically accomplished with an AR viewer, such as Microsoft's HoloLens, or through the camera of a mobile device (think Pokémon Go).
AR Case Study
When SmithGroup took on the design of a new headquarters building in Washington, DC, the project's unique site required an innovative approach. We designed a continuously curvilinear building with a facade broken down into four-foot modules, each calibrated precisely to the site using a computational methodology that takes into account facade energy performance, as well as views, viewshed and constructability.
With the new headquarters nearing completion—construction is expected to finish later this year—we needed a similarly innovative approach to complete the project's construction administration phase.
A traditional process for construction administration review of the building's new facade would involve an architect on site with a 2D, flattened elevation. The architect would have to interpret a 2D drawing of the building and choose an alignment point—perhaps the intersection between glass and metal panel on the 2nd floor— from which they could attempt to count approximately 200 panels per floor and verify their correct construction type against the elevation. Not only is this technique hugely laborious and imprecise, it is flawed in its logic. If the transition between curtain wall and metal panel on the 2nd floor was installed at the wrong location, there is no way to verify that the entire facade has not shifted one unit over, therefore nullifying the precise process that calibrated each building panel.
To avoid the pitfalls of a traditional process when it came time for construction administration, the project team looked to our internal Technology in Practice group—a firm-wide team that specializes in technological applications that range from data analytics to computational design methodologies and how to best utilize BIM. The group helped eliminate inefficiencies in the headquarters' quality control process by developing an AR workflow that takes advantage of the architectural design model, overlaying digital panel tags on top of the installed building skin. The design model is three-dimensional, and by anchoring the model to a site survey point, individual identification tags appear to be fastened to the exterior face of their corresponding panel when walking the site with a Microsoft HoloLens.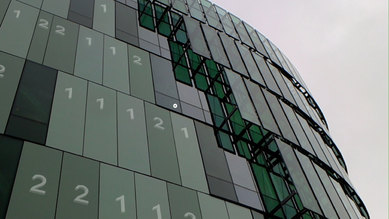 Using AR, vital construction data can be transferred instantaneously from the design model to the augmented reality overlay. This enables visual surveys to provide quick, precise quality control. If a panel is found to be incorrectly placed, a simple click brings up the identification number of that panel, its correct panel type, and its precise X,Y, and Z coordinates for placement.
"We pushed the boundaries of design technology to create a solution that was functional, beautiful, and uniquely site specific," said SmithGroup Design Director Sven Shockey. "AR has allowed us to streamline our construction administration process to ensure that every bit of labor and ingenuity that went into the design process shows in the final result."
The Future of AR
AR technology is not without faults at this relatively early stage of its development. Direct sunlight caused issues in viewing the augmented reality overlay on site, as well as anchoring the digital model in the real world. Tracking was also problematic when walking the site. In theory, the HoloLens has the ability to actively track movement through space accurately, but calibration was often lost if calculated from too far of a distance. Architects can account for this shortcoming by carefully selecting their viewpoints and re-anchoring the digital model as necessary as they move around a building.
However, the utility of AR workflows is already readily apparent, with even greater potential value as the technology grows more sophisticated in coming years. The ability to overlay digital data in a real-world environment allows for augmented reality "mockups" and live MEP clash detection that are already saving design firms time and money. "We've seen our clients spend $50,000 on cardboard mock-ups of a hospital floor to understand the proposed design," states Derek White, SmithGroup Chief Information Officer and head of the Technology in Practice Group.  "With AR we can provide a similar, immersive experience than can be modified on the fly and experienced in their own office.  No box cutter required." In the future, AR could function as a window into digital twin technology, as well as all vital building operations. A building engineer could enter a structure and have instant access to its vital maintenance information, equipped with the ability to see through walls and ceilings to trace duct and pipe locations.
If VR's rapid rise is any indication, AR technology will soon be far more powerful—and far more widespread—than it is today. Architects and engineers who understand how to leverage AR's capabilities will reap its benefits in the form of newer, more efficient workflows and an increased capacity to solve complicated problems.