SmithGroup's Dallas office is a design leader in the region in the Healthcare, Higher Education, Science & Technology and Workplace markets. Our talent in the Lone Star State focuses on creating inspiring places that enhance the environment and enrich the human spirit. In all our work, it's the people and unique culture of our team that truly sets us apart.
Our Dallas office culture is unique in so many ways. We like a good balance of work and play. From after-hours activities to community service, we're always doing something outside of the office that strengthens our working relationships inside the office. Some of our favorite hangout spots are People's Last Stand, Torchy's Tacos and Gloria's.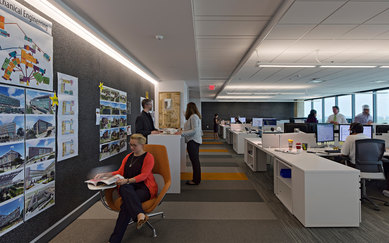 Located on the north side of Mockingbird Station, employees enjoy stunning views from the 17th floor office in the Premier Place building, with vistas of downtown Dallas, Southern Methodist University, the Park Cities and North Dallas.